What materials used in solar panels?
Solar panel structure: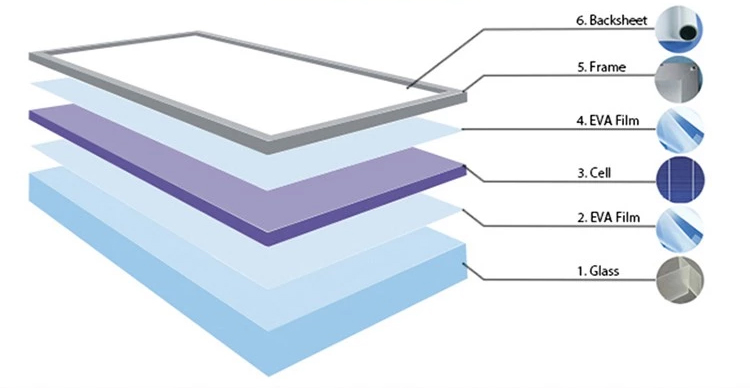 Solar panel material list

Item

Name

Picture

Description

1

Solar cell

1.Cell efficiency:(Cell power / cell area)*1000;
For example:5W monocrystalline silicon solar cell efficiency:(5W/15.6CM*15.6CM)*1000=20.55%;

2.Number of cell
1640 panel:60pcs cells, arrangement:6*10;
1950 panel:72 pcs cells, arrangement: 6*12

3.Voltage of single cell:0.5V/piece, open circuit voltage:0.6-0.7V/piece;
For example:1640 panel,voltage:60*0.5V/piece=30V, open circuit voltage:60*(0.6-0.7V)=37-38V.

2

TPT backboard

The TPT backboard is located on the back of the solar panel to protect and support solar cells, and has reliable insulation, water resistance and aging resistance.

3

EVA

In the case of high temperature melting, bonding solar cells and toughened glass.

4

Junction box

1. 3 sets of diodes.

2. After the panel is packaged, the junction box is filled with glue to prevent the water conducting electricity.

3. Waterproof level: IP67.

5

Aluminum alloy frame

1640 panel size: 1640*992*40*35mm

1950 panel size: 1950*992*40*35mm

6

Encapsulant

Fixed aluminum alloy frame.

7

Photovoltaic ribbon

Connect each solar cell and conduct electricity.

8

Toughened glass

Protect solar cells.