Wind solar power system project in Senegal: 5kw wind and 5kw solar for home use
Mr. Omar, who come from Senegal, is our TANFON's old friend. We have known each other more than 7 years already; during these years, Mr. Omar have been to our factory 3 times. Everytime when he need wind and solar hybrid system products, he just told us online to place the order and pay online, finishing producing we just need to ship the goods to Guangzhou for him.
This time he ordered one set 10kw wind solar power system for homes use. After installation to use this 10kw wind solar power system, he shared some pictures with us.
The wind solar power system for homes that installed in Dakar and working good, from Mr. Omar using the system's feedback.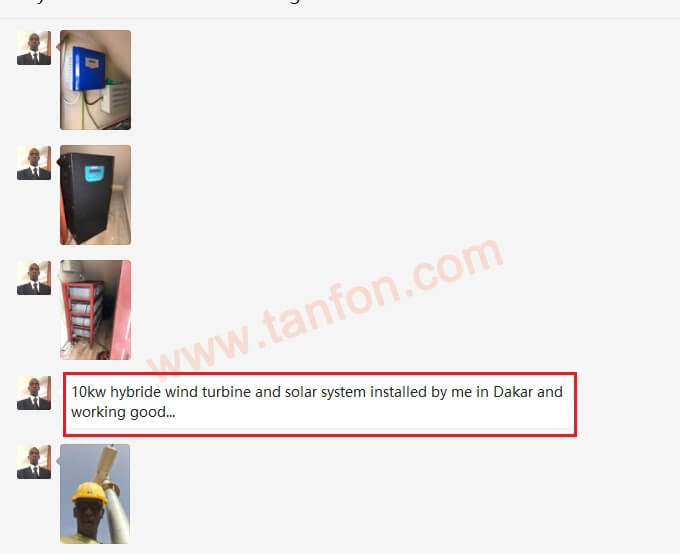 TANFON wind solar power system is very easy for installation. We just send Mr. Omar the installing drawing guiding, and he finished the wind solar power system installation by himself.
He has been to our two factories and witnessed the growth and development of TANFON. Thanks to the old friends for their praise and feedback.
Why more and more wind solar power system projects install in Senegal:
Position:
Senegal is located on the west of the African continent. It lies between latitudes 12° and 17°N, and longitudes 11° and 18°W.
Senegal is bordered by Mauritania in the north, Mali to the east, Guinea to the southeast, and Guinea-Bissau to the southwest. Senegal also borders The Gambia, a country occupying a narrow sliver of land along the banks of the Gambia River, which separates Senegal's southern region of Casamance from the rest of the country. Senegal also shares a maritime border with Cape Verde. Senegal's economic and political capital is Dakar.
Climate:
Senegal is externally bounded by the Atlantic Ocean to the west, Mauritania to the north, Mali to the east, and Guinea and Guinea-Bissau to the south; internally it almost completely surrounds The Gambia, namely on the north, east and south, except for Gambia's short Atlantic coastline.
Senegal has a tropical climate with pleasant heat throughout the year with well-defined dry and humid seasons that result from northeast winter winds and southwest summer winds. The dry season (December to April) is dominated by hot, dry, harmattan wind. Dakar's annual rainfall of about 600 mm (24 in) occurs between June and October when maximum temperatures average 30 °C (86.0 °F) and minimums 24.2 °C (75.6 °F); December to February maximum temperatures average 25.7 °C (78.3 °F) and minimums 18 °C (64.4 °F).
Interior temperatures are higher than along the coast (for example, average daily temperatures in Kaolack and Tambacounda for May are 30 °C (86.0 °F) and 32.7 °C (90.9 °F) respectively, compared to Dakar's 23.2 °C (73.8 °F) ), and rainfall increases substantially farther south, exceeding 1,500 mm (59.1 in) annually in some areas.
In Tambacounda in the far interior, particularly on the border of Mali where desert begins, temperatures can reach as high as 54 °C (129.2 °F). The northernmost part of the country has a near hot desert climate, the central part has a hot semi-arid climate and the southernmost part has a tropical wet and dry climate. Senegal is mainly a sunny and dry country.
Wind Solar power system projects in Senegal
Bokhol photovoltaic plant, inaugurated in October 2016, raises renewable-energy production share in West Africa.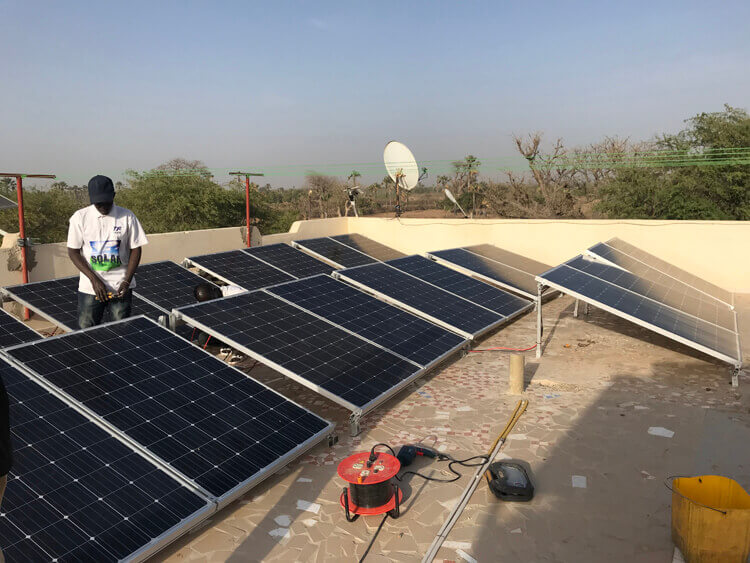 In arid northern Senegal, not far from the border with Mauritania, the Bokhol photovoltaic plant covers a 40-hectare site. The 75,000 solar panels deployed here produce 20 MW of electricity, making Bokhol the largest solar plant in West Africa.
The Senergy 2 solar power plant, which was inaugurated in October 2016, will supply electricity to 160,000 people in Senegal, a country where nearly 50% of the population has no access to electrical power. The facility also raises the renewable-energy production share in Senegal's energy mix, with a "green power" target of 20% for 2017. Senergy 2 reduces the release of CO2 emissions into the atmosphere by 23,000 tonnes per year.