The Zimbabwe's countryside like Chinese countryside, their home have a lot of small power appliances, but not usually use them, in their mind, save electricity is virtues of fine traditions, also can save money. So how to design solar power system for home?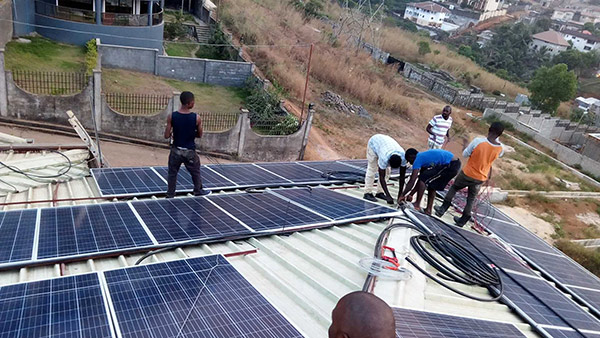 One of our customers in Zimbabwe, his house is in countryside, appliances have tv, pump, fan, cooker machines etc. At first, we according to his all machines to design out 5kw solar power system for home use. Because he has water pump(1000w), pump is inductive load appliance, start power is rated power 3-6 times, so through calculation: 1000w x 3 times = 3000w. At least 3000w inverter can carry the water pump to work. In consideration of he has other machines as well, we suggest him to use 5kw solar power system for home. the 5kw solar power system for home complete set include: 16pcs 350w solar panel, 8pcs 200ah battery, pv combiner, hybrid inverter, solar panel bracket, pv cables etc.
But his electricity consumption is low, he said: "if the water pump do not use the power from the solar power system, can we use smaller power system?" We anwser that: "Yes, sure. The pump can connect to city grid directly, the solar system just carry your other appliances, then you also can save money."
Finally, we design the 300w solar power system for home use with his house samll power appliances. The 300w solar power system for home complete set includes 2pcs 150w solar panel, 1pc 300w solar inverter with controller built-in, 1pc 200Ah/12V gel battery, and some cables. It is small system very easy to insatall. Customer do not need the panel braket from us, he made it by himself. When he received the goods, he very satisfied with the goods package and quality. After the installation is completed, he sent us the pictures and says the solar system is working well. He tell us, will recommend TANFON solar to his neighbor.
If you also need solar power system for home use, feel free to contact with TANFON team, our team will design the suitable home system for you efficient and Professional.
Tanfon Supply: Free site survey, design, production, installation, maintenance of one-stop service.