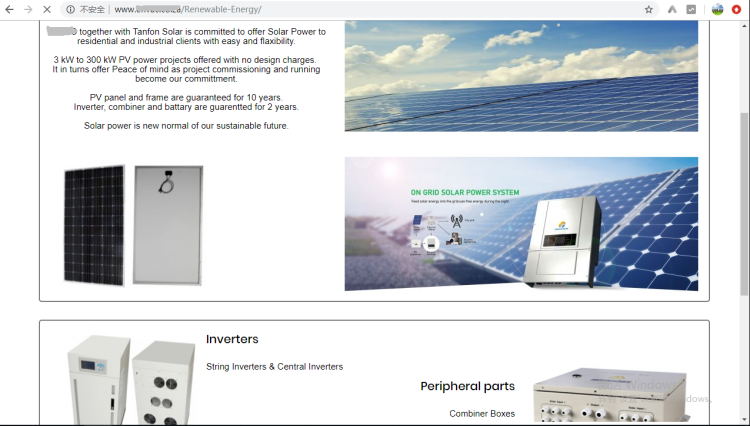 Mr.Arshad Ali's group company deal on Chillers & VRV Systems market .after half years choose chinese off grid solar systems supplier ,and test our off grid solar systems sample ,final choose us !
he invite to visit his group website under Products > renewable energy.(off grid solar power systems)
They selling through engineer / consultants for projects and seriously looking into represent Tanfon.
Solar Photovoltaic (PV)
**** together with Tanfon Solar is committed to offer off grid solar power systems Solar Power to residential and industrial clients with easy and flaxibility.
3 kW to 300 kW PV power projects offered with no design charges.
It in turns offer Peace of mind as project commissioning and running become our committment.
Tanfon is TOP10 solar project factory in china .for the cooperation partner ,why tanfon is your right choose?
Tanfon solar--German technology, Chinese price, Global service
1).Our IGBT inverter SCR is used German SEMIKRON technology, with Germany standard and quality.
2).Our Chinese factory is mainly responsible for the supply chain management and production
3).Our Global service in Thailand,Kenya,Senegal,Mozambique,will build 120 service centers all over the world. Give strong after-sales service in Local
After 12 years of deep cultivation, we have successfully helped some of our customers to grow up and cooperate together to develop the local market more comprehensively.
Specializing in installing projects from design, detailing, fabrication to erection, having continue cooperation with engineers, exclusive agents and the foreign business partners, we are now sincerely hoping to join hands with you to create a better future together at the principle of win-win cooperation
Tanfon Vision: Will be established 120 solar service centers worldwide.
Tanfon Mission: Make the world away of the expensive electricity.
Tanfon Values: Passion, Efficiency, Decisiveness, Dedication.
Tanfon Advantage: German technology, Chinese price, Global service.
Welcome to Join us !