With the help and trust from all clients, suppliers and logistic compaines, Tanfon has a Steady growth in 2019. Here we want to say thank to you all.And hope we can have further cooperation in 2020.
2019 is an extraordinary year, we have installed solar air port project, farm project, school project, hostipal projects and established service centers in 12 countries around the world.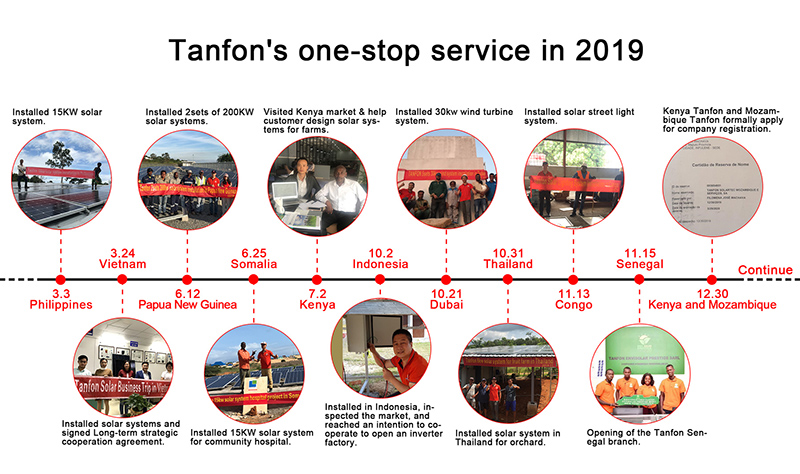 3rd March, 2019. We installed 15kw solar system in Philippines.
24th March, 2019. We installed solar system in Vietnam, and signed Long-term strategic cooperation agreement.
12th June, 2019. We installed 2sets of 200kw solar systems in Papua New Guinea.
25th June, 2019. We installed solar system for community hospital in Somalia.
2nd July, 2019. We visited Kenya market, and helped customer to design solar systems for farms.
2nd Oct, 2019. We installed solar system in Indonesia, inspected the market, and reached an intention to cooperate to open an inverter factory.
21st Oct, 2019. We installed 30kw wind turbine system in Dubai.
31st Oct, 2019. We installed 10kw solar system in Thailand for orchard.
13th Nov, 2019. We installed solar street light system in Congo.
15th Nov, 2019. Opening of the Tanfon Senegal branch.
30th Dec, 2019. Kenya Tanfon and Mozambique Tanfon formally apply for company registration.
After 12 years of deep cultivation, we have successfully helped some of our customers to grow up and cooperate together to develop the local market more comprehensively.
Our vision is to open 120 service centers all over the world, and we are constantly working hard for it.
Tanfon can provide you with all professional services, Tanfon will go with you all the way.We sincerely invite you to work with us together in 2020.
Best wishes to you, wish you and your family have a better new year.
Foshan Tanfon Energy Technology Co.,Ltd
10th Jan,2020