On February 28, 2022, in order to meet the production needs of more customers, we moved to a factory that is doubled in size. Not only has the production capacity been increased in the new factory, but the following changes have also been made:
1.) Company logo
The new LOGO indicates that our company upholds a positive attitude,a rising sun with the anagram of our name, expressing our vocation of globality, optimism and compromise with clean energy production.


In our new factory, we have added a product display of home solar systems and a test display of industrial and commercial solar systems. You can experience TANFON solar products more intuitively before placing an order, and you can also test the performance of the solar system online. We can do any load test, solar and city grid complementary test, solar and diesel generator complementary test. Correct startup process and shutdown process testing of solar systems.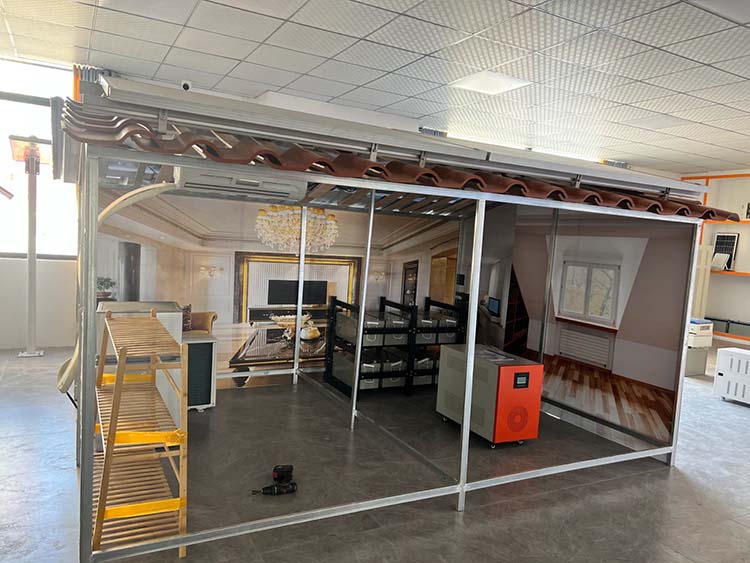 2.)We have added a live broadcast room, and there are online live broadcasts every week, which can train your sales staff and installation staff. Our livestream themes have:
How to Calculate Correct Solar System Capacity?
(How much system is suitable for small home users? How big is the system for large industrial and commercial users?)
How to calculate the installation area of solar panels, batteries, and inverters?
) Increase the solar "WITH IOT" visualization showroom. Our IOT is not only to view the working data of the solar energy system on the mobile phone or computer, but also to become your solar energy housekeeper, which will regularly remind you to maintain your solar power system. TANFON promise that it also gives you an absolute extended warranty, because we firmly believe that our solar housekeeper can help you to extend the service life of your solar equipment. From a long-term investment perspective, it increases the ROI and allows you to save more money. Making the solar system a durable item rather than a one-time sale. This is also the value of cooperation with TANFON.
4.)The concept of TANFON will move towards a service-oriented factory, not only to sell products to you, but also to serve you for 25 years or even longer. Let the people of the world live a higher quality of life and strive.