Date: 15-01-2020
Location: Mboro, Senegal
For the irrigation of fields, in the regions of Senegal and the surroundings of Dakar there is an enormous lack of water, and even in some villages it is almost absent.
So people used the manual pumping system which is very difficult and sometimes compromising. But for some time with the advent of solar energy, solar pumping system has often been the most obvious solution for water supply since it is considered a mature and modern technology.
From there, Tanfon Envisolar Prestige a renowned factory specializing in the production of solar equipment also intervenes in the installation of solar pumps of all kinds ...
Thus, the Tanfon Envisolar team had to install in the Niayes areas more precisely at MBORO a solar pumping system in a 2 Ha field.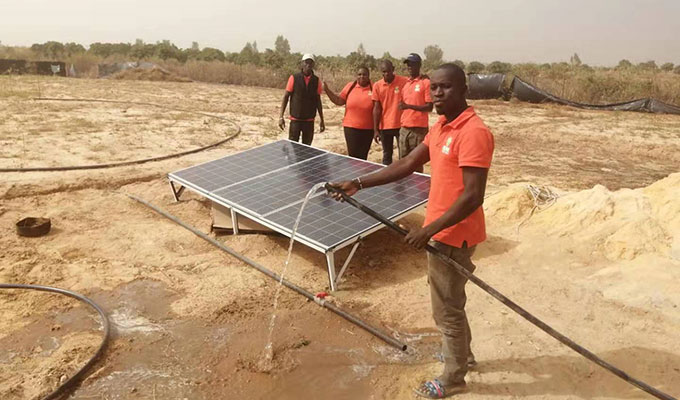 Customer motivation:
The client urgently needed a pumping system to operate his field, which is located in a somewhat isolated area. Its plantations are already traces and the pipes taste has already been placed. So the activities had to be done as quickly as possible.
Installation:
Our team installed a submersible solar pump of 30m-3m3 / h-750w, accompanied by 4 solar panels of 270w and all the necessary accessories.
The installation was not a heavy task for the Tanfon Envisolar team because of its professionalism and know-how, everything went as planned because we completed it in record time.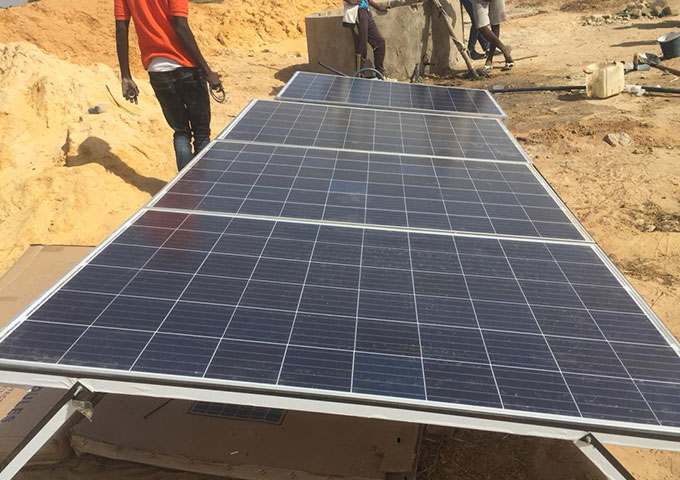 The solar pumping system is very practical and easy to use, and this type of pump does not require the addition of a battery because it only works during the day using the solar rays that the panels receive.
The customer was very satisfied with the installation carried out by the dynamic and professional team of Tanfon Envisolar Prestige that the water flow obtained with this pump corresponded to their expectations. And this customer also promises soon an entire solar installation of his house.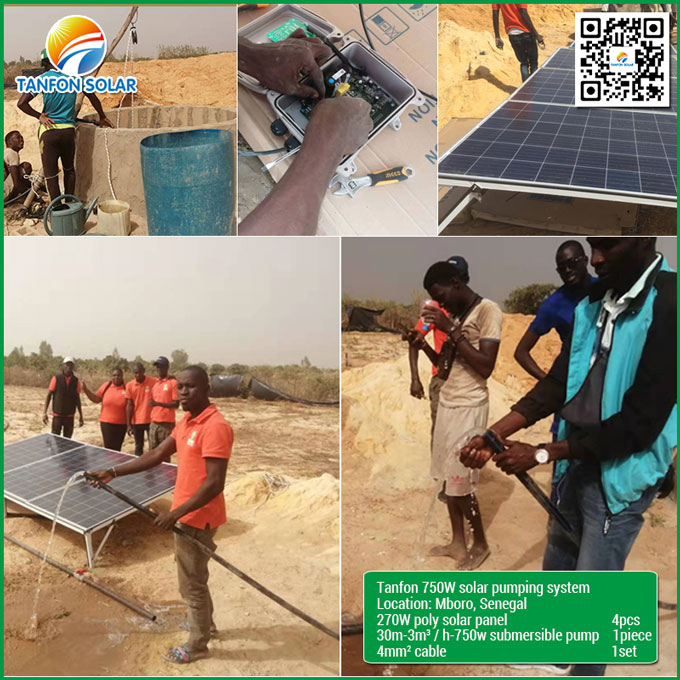 Pour l'irrigation des champs, dans les régions du Sénégal et les environnants de Dakar on remarque un énorme manque d'eau, et même dans dans certains villages elle y est quasi absente.
Donc les populations avaient recours au système de pompage manuel qui est très difficile et compromettant parfois. Mais depuis quelques temps avec l'avènement de l'énergie solaire, le pompage solaire est souvent la solution la plus évidente pour les adductions d'eau car considérée comme une technologie mature et moderne.
De la, Tanfon Envisolar Prestige une usine de renommée spécialisée dans la production d'équipements solaire intervient aussi dans les installations de pompes solaires de tout genre…
Ainsi, l'equipe de Tanfon Envisolar a eu à installer dans les zones des Niayes plus précisément à MBORO un système solaire de pompage dans un champ de 2 Ha.
Motivation du client
Le client avait besoin en urgence d'un système de pompage pour l'exploitation de son champ qui se situe dans une zone un peu isolée. Ses plantations sont déjà traces et les tuyaux goûte a goûte déjà placés. Donc la mise en activités devait se faire le plus rapidement possible.
Installation
Notre équipe installé une pompe solaire immergée de 30m-3m3/h-750w, accompagnée de 4 panneaux solaires de 270w et de tous les accessoires nécessaires.
L'installation n'était pas une lourde tâche pour l'équipe de Tanfon Envisolar du fait de son professionnalisme et de son savoir-faire, tout s'est passé comme prévu car nous l'avons terminée en un temps record.
Le système de pompage solaire est très pratique et facile a utiliser, et ce type de pompe ne nécessite pas l'ajout de batterie car fonctionnant que le jour a laide des rayons solaires que reçoivent les panneaux.
Le client était très satisfait de l'installation réalisée par l'équipe dynamique, et professionnelle de Tanfon Envisolar Prestige du fait que le débit d'eau obtenu avec cette pompe correspondait à ses attentes. Et ce client promet aussi sous peu une installation solaire entière de sa maison.