How to distinguish the quality of Solar led light system
TANFON

TANFON

Others

Others

Made of aluminum alloy, good heat dissipation

Made of plastic, poor heat dissipation

Bridgelux double chip leds, the luminous efficiency reaches 160-180LM/W

Poor quality led chip,luminous efficiency is 80-100LM/W

Class A famous brand high efficiency lithium battery, PICC insuarance company underwriting

Class B or C lithium battery, even second hand battery

Hot-dip galvanizing, Wind load reaches 55M/S, Light pole wall thickness 3mm

Simple anti rust treatment, The pole wall thickness is 2-2.5mm

Famous brand controller, stable and reliable

Homemade or unbranded controller

A grade Suntech solar cell, 18% efficiency

Not brand name solar panel, low efficiency.
Tanfon solar led light system have 3 kinds of design, all-in-one solar led light system(pv panel, controller, lithium battery, led lamp in one box.), Semi-split solar led lights system(lithium battery and controller in one box), Completely split design solar led lights system.
The above comparison is about all-in-one design solar led light system. The all-in-one solar led light system power design can be 8W upto 120W.
The all-in-one solar led light system operating mode: light control + human body induction
It lights up in the dark, for example, 30% or 50% when no one is on, and 100% when someone lights up. These data can be adjusted according to customer needs.
Light control: When the solar panel absorbs less than the light source, it will automatically light up. If the solar panel is completely covered by the object, it will also light up.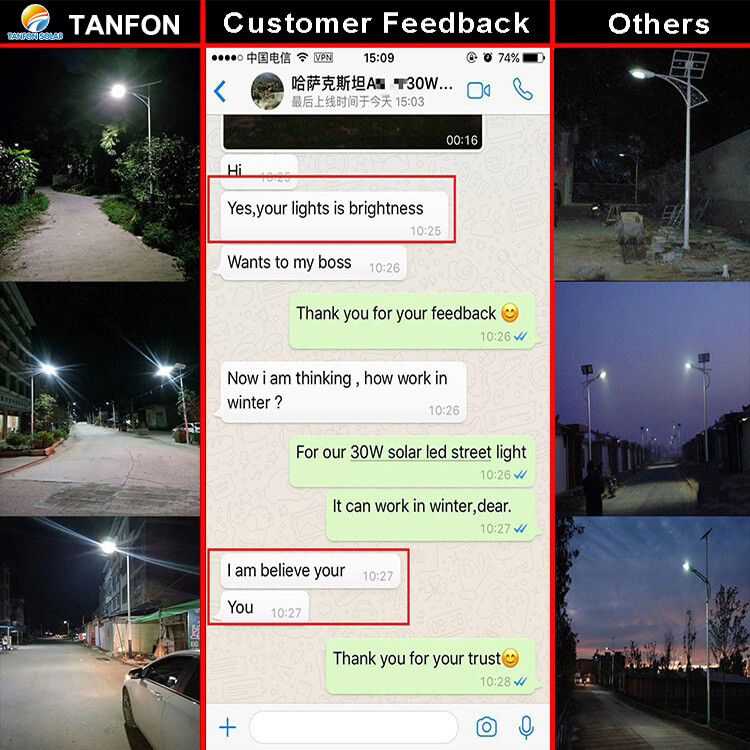 Welcome to contact with TANFON team to know more information.