3 phase 4 wire solar power inverter 30kw 380V inverter price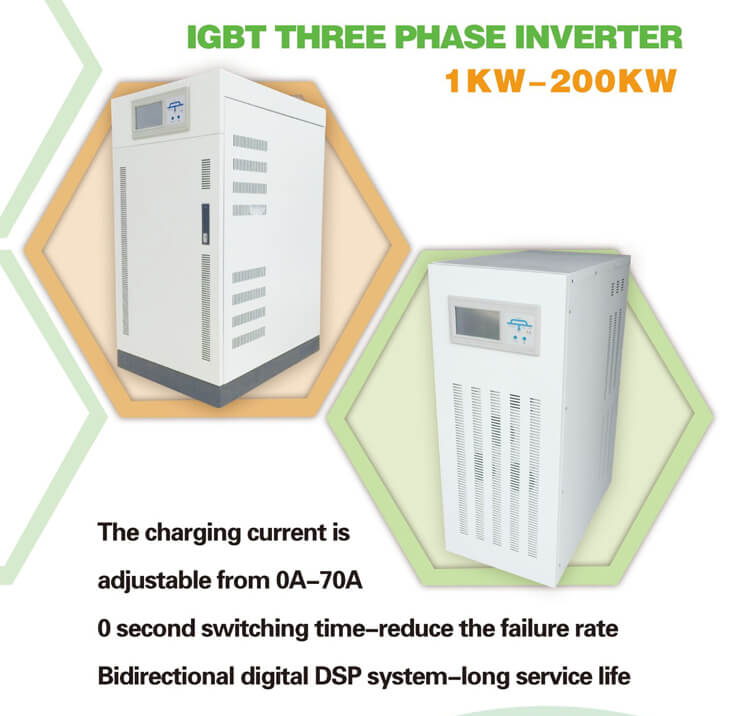 Foshan Tanfon Energy Technology Co., LTD is a professional manufacturer of solar/wind systems inverter (on grid and off grid), solar hybrid control inverter, home UPS inverter (single phase and three phase), controller, battery ect.
3 phase inverter solar power inverter features
Tanfon 3 phase inverter with IGBT material functions:
1. With AC reactor (Protect against city power current shock)
2. Double protection. (Two fuses, including the city power security and battery power security)
3. Thyristorcharging. (The thyristor charging current is larger than charging board one. The thyristor charging current could reach to 40-50a while the charging board is only 10a-15a)
4. IGBT converter. (High 95% transfer efficiency and strong anti-loading shock capacity)
5. AC filter capacitor. (Have stabilizing voltage function and pure sine wave output)
6. Under normal working condition when taking the loads, the machine can run as usual even when cut out the battery power. (Strong capacity for anti-shock, stable function)
7. The Chinese/English language operation interface for choice.
8. Touching display
9. IGBT brand: Mitsubishi (import from Japan)
Thyristor charging brand: SEMIKRON Brand(import from German)
10. 1KW-10kw(MOS, 48V/96V/120v),10KW-250KW(IGBT, 192V/240V/384V)
3 phase inverter solar power inverter as below
3 phase inverter 10kw(192V) 15kw and 20kw ( 3 phase solar power inverter )
3 phase inverter 30kw-250kw ( solar power inverter )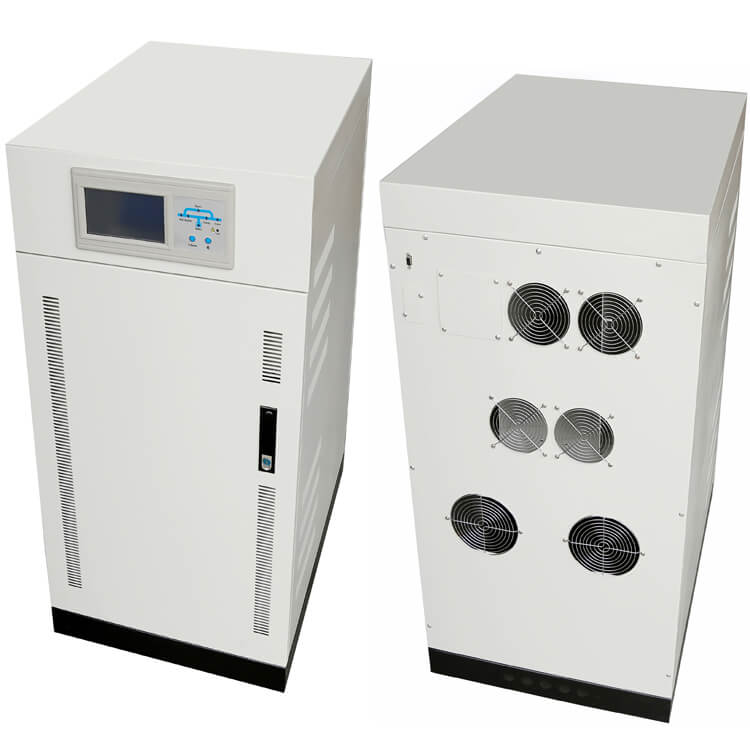 Capacity: 1KW--100KW
Super wide input voltage: 285V-475V

Completely controlled by CPU, LCD automatic page turning display

Protection against output short-circuits; against overload, and when you throw off its load, it will turn on the unit automatically.

Working for single phase and three phases.

110V/220V single phase; 240v/380v/415V/440V optional.

Also can be designed the hybrid typw, with charger built-in, its charging current is 10A----156A.

Different DC voltage: 24V, 48V, 96V, 192V, 240V, 384V for optional

Make it with 3 pcs PCB box, it is more stable design.

This kind inverter can take pump or lift, and other industrial use
Tanfon 3 phase inverter insist using high quality material
IGBT
AC reactor
AC filter capacitor
SEMIKRON Brand(import from German)
Thyristorcharging IGBT converter
AC and DC fuse
Mitsubishi(import from Japan)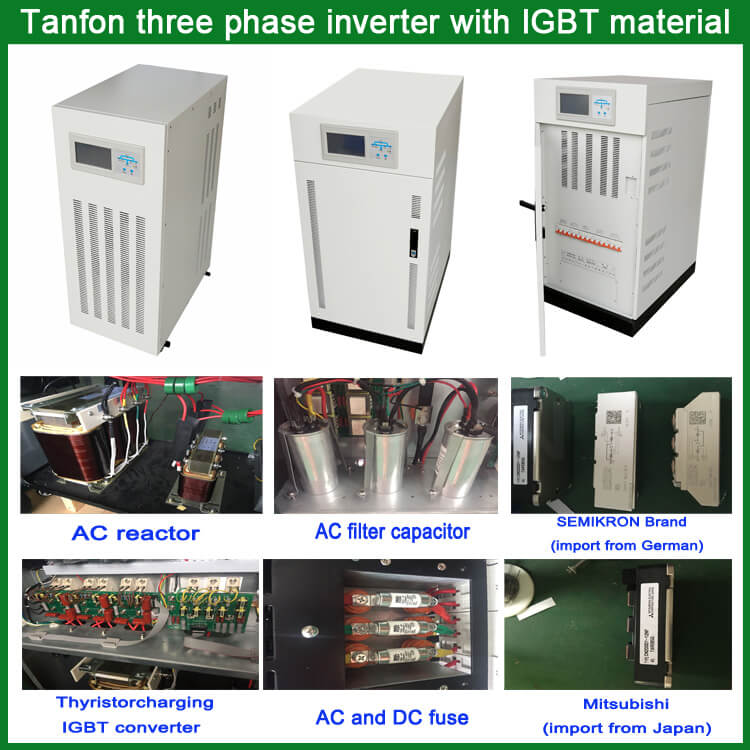 3 phase solar inverter specification
Off Grid Power Pure Sine Wave 3 Phase Inverter 30KW

Model

30K

Power

30KW

Power Factor

0.8

Input

Phase

3 phase 4 wire and ground

Voltage Range

380V±20%(3 phase), phase voltage 220V

Frequency Range

45-65Hz

Rectifier

3 phase 6 pulses, 12 pulses is optional

Output

Phase

3 phase 4 wire and ground

Wave form

Pure sine wave

Crest Factor

3:01

Rated Voltage

380/400/415V optional ±1% for static load, 5% forfluctuant load

Phase Voltage setting

200-244VAC, pls confirm when order

Transient Response

±5%,10ms

Frequency

50/60 Hz ±0.05%

Total-harmonic distortion

< 3% linear load, <5%(nonlinear load)

short circuit current

Short current for 0.1s(200% current)

Overload Capacity

Overload 125% for 10 Mins, 125%-150% for 1min, automatically resume when load become normal

Battery

Battery

Maintenance free lead-acid cell

DC Voltage

384V

Max Charge Current

6-30A adjustable

Bypass

Type

Static state + manual maintenance bypass

Input Phase

3 phase 4wire and ground

Input Voltage Range

15% - 25% (the front control panel selectable)

Transfer Time

Inverter / bypass transfer switch time(Overload): 0ms inverter / bypass transfer switch time (fault inverter) 1ms

Efficiency

Whole unit

>85%

Inverter

95

Remote Signaling

Dry contact (battery low, battery discharging, bypass / fault); output 12vdc/80mA, Optional parts

Communication Interface

RS232 (SNMP, modem optional)

Running Temperature

0-40 degree Celsius

Relative Humidity

Less than 95% (without condensing)

Noise at 1 M

Less than 60dB

Degree of protection

IP20

Applicable Standards

EN50091-1-EMC, EN50091-2LIV.A

Product Size(mm)&Weight(Kg)

1100mm*660mm*1460mm, 380Kg

Package Size(mm)&Weight(Kg)

1450mm*1110mm*1880mm, 420Kg
3 Phase inverter pure sine wave for 3-phase solar system Projects: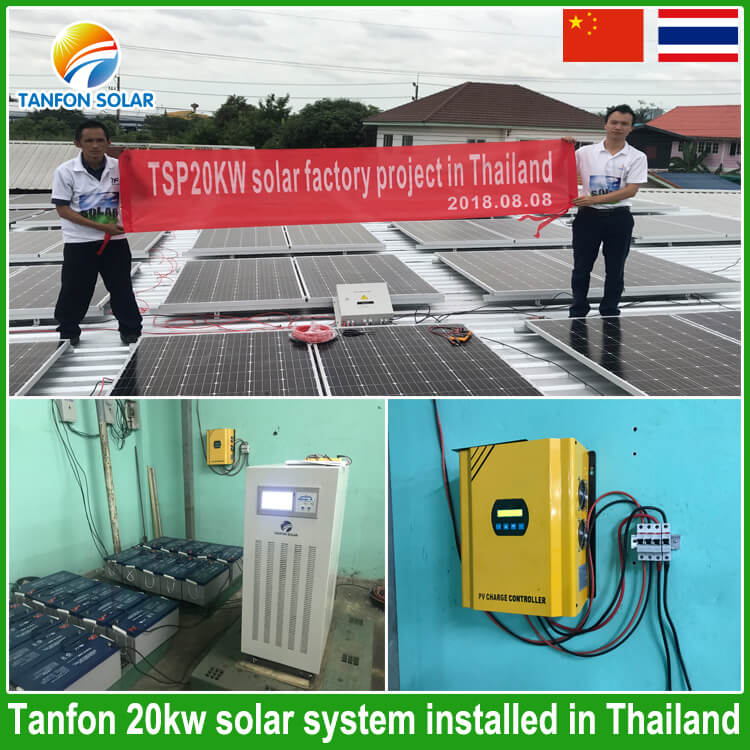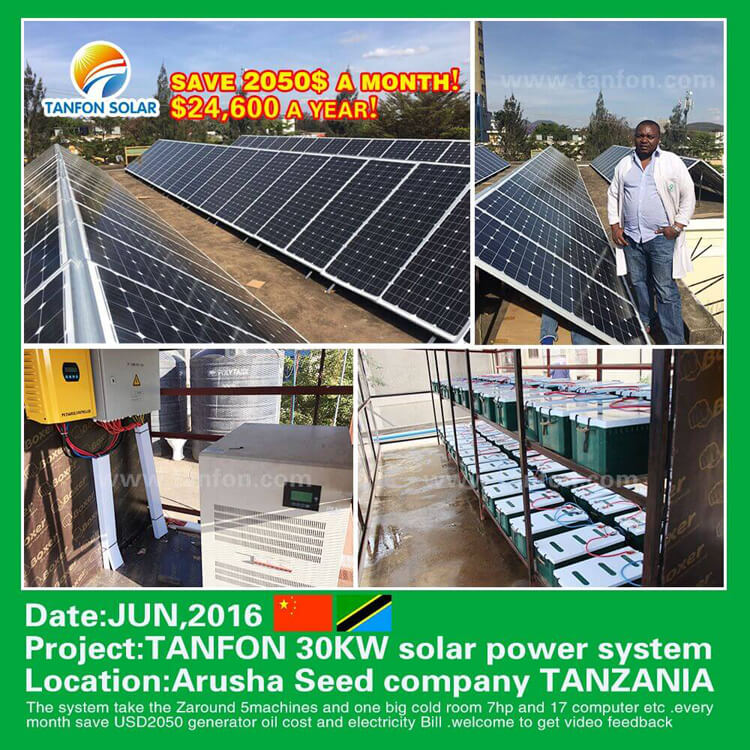 3 Phase inverter Using Feedback:
Quality:
Each set solar power system has tested by power-off test of 100 times per hour.
Service:
Pre-sale: Have been served for 120 countries professional teams will free to hlep you to design and big project site survey.
Selling: Three days per time of follow-up services, video inspection.
After sales: Engineer can be on-site installation service.
Efficiency:
Project design solution will send to you quickly within 1 hour

The fastest will be shipped in 7 days

The engineer will arrive at the installation site within 10 days after the goods arrived at port.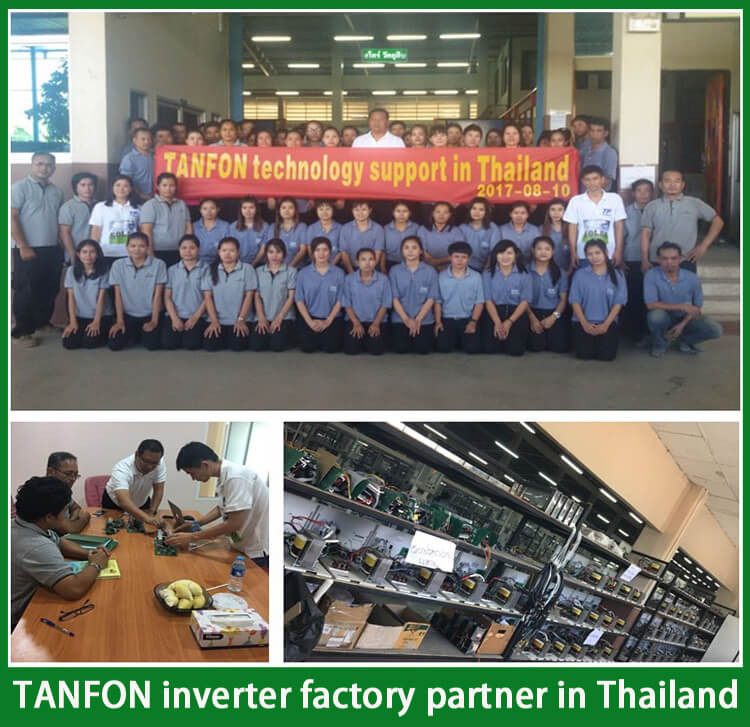 3 Phase inverter factory: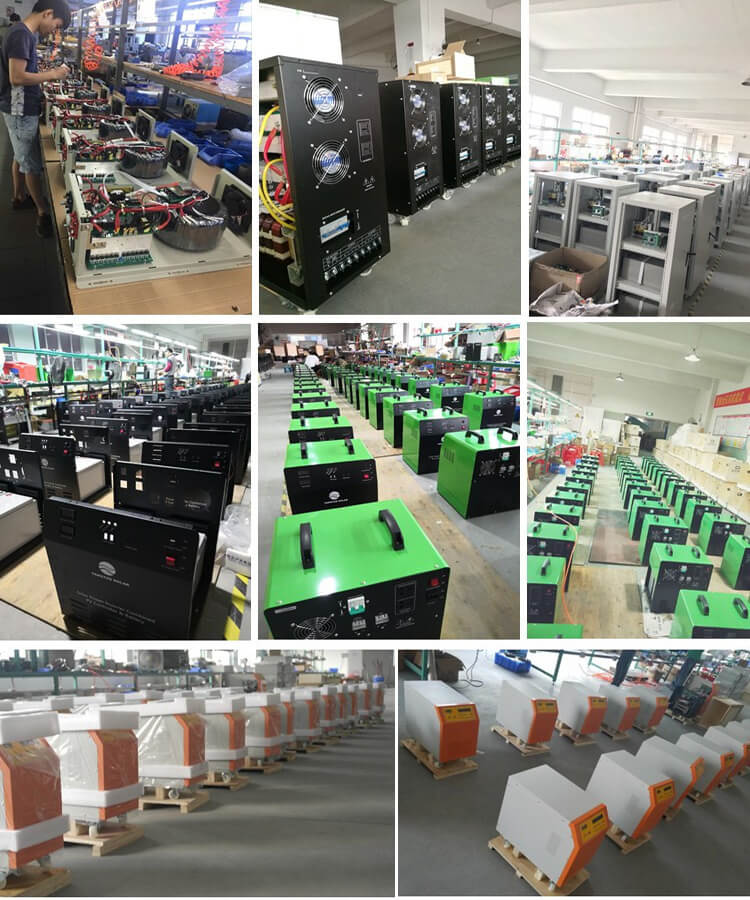 We accept OEM and small trial orders, contacting with us now for more information. All inquiries will be replied with in 24 hours.
With us, your business in safe, your money in safe!