solar wind generator 4kw wind turbine domestic power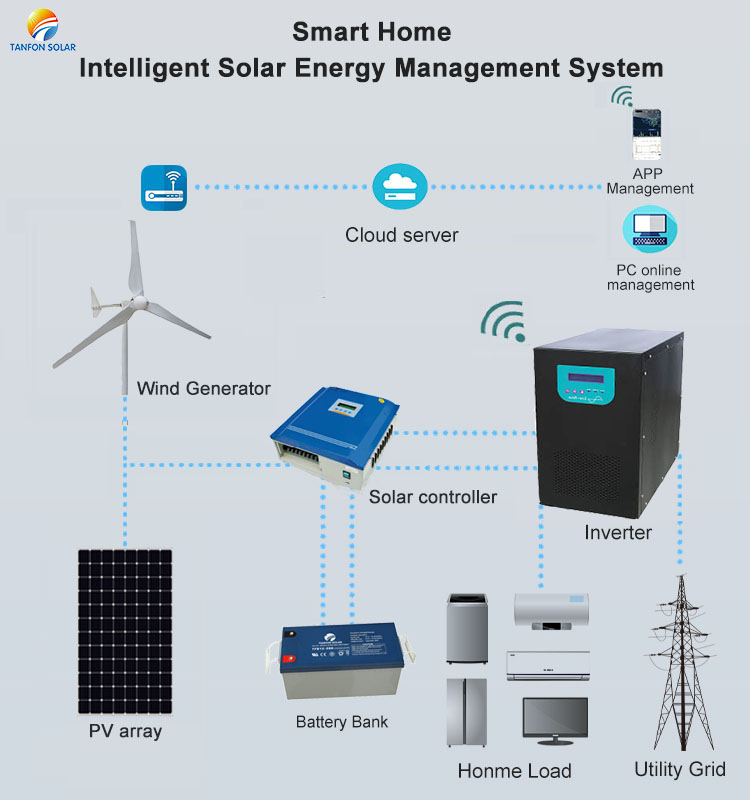 Factory introduce:
Foshan Tanfon Energy Technology Co., Ltd. is specialized in R&D, manufacturing and selling wind power system product, solar power system product, solar wind hybrid system, solar and wind energy.
For wind system mostly use for household power supply, have main charger when non-wind. very useful system.Pure sine wave output, can take all inductive loads.
Why Choose Tanfon?
Quality:
Each set solar power system has tested by power-off test of 100 times per hour.
Service:
Pre-sale: Have been served for 120 countries professional teams will free to hlep you to design and big project site survey.
Selling: Three days per time of follow-up services, video inspection.
After sales: Engineer can be on-site installation service.
Efficiency:
Project design solution will send to you quickly within 1 hour

The fastest will be shipped in 7 days

The engineer will arrive at the installation site within 10 days after the goods arrived at port.
TANFON WSH3KW hybrid power system: 1000w solar + 2000w wind

Solar panel power: 1000W + Wind turbine generator: 3000W

Suitable for daily power consumption: 12.8-15KWH Allowable Max Loads power: 5KW

Wind turbine generator (Qty: 1pc)

| | |
| --- | --- |
| Model | FD-2000 |
| Rated power | 2KW |
| Starting wind speed | 3m/s |
| Working wind spped | 3-20m/s |
| Rated wind speed | 9m/s |
| Security wind speed | 40m/s |
| Rated DC voltage | 48V |
| Rated speed | 380r/m |
| Rotor diameter | 3200mm |
| Protection | Electromagnetic torque control and electricity brake |
| Type | 3phases permanent magnetism synchronization generator |
| Blade material | Extra-strong fiber glass |
| Packing material | Plywood box and foam material |
| Generator weight(kg) | 68KG |

Free stand tower

Height: 6m tower Weight: 77KG

Wind turbine generator pole, it helps fasten wind generator in safe altitude. Use steel material with rust prevention.

Easy to install

Solar Panel power(Qty: 4pcs)

FS250W mono solar panel(poly optional)

Vmp: 30V Voc: 36V Imp: 8.67A

Size: 1640*992*40mm 25 years life time (CE RoHS ISO)

Coated steel Glass: 3.2mm Tem pered

Terminal block: IP65 with MC4 connector

Efficiency performance: 25 years 80%, 20 year 85%, 10 years 90%

A Grade SUNTECH cells of high efficiency 20%

Solar panel power PV combiner (Qty: 1pc)

Model: H4T-48v Multiple PV strings inputs

Simplify wiring between PV array and controller, protections to controller, Prevent hot spot effect

Wide range of DC input voltage

Reliable thunderstorm & surge protection

Solar wind generator controller (QTY: 1pc)

Input 1000W solar power + 2000W wind power

DC 48V input; MPPT intelligent control

Protection Function: Solar reverse charge protection , Solar reverse connection protection, Battery-over-charge-protection, Battery-reverse connection protection, Lightning protection.

Solar wind generator Battery (QTY: 8pcs)

Capacity: 12V/150AH, full sealed wind power gel battery

Service life: 6-8 years Size: 483*170*219mm

Connect way: 4pcs connect in series, then 2 strings in parallel connect to inverter

Solar wind generator inverter (QTY: 1pc)

Rate output Power: 3KW pure sine wave

DC: 48v; AC: 110v or 220v

With AC charger build-in Protection against overload, short circuit, discharger, etc.

Double protection, import MOS tube and optocoupler

Solar wind generator Cables (QTY: 1 set)

1) 7pcs 16mm2*35CM battery cable connect

4pcs 16mm2*1M battery cable connect

2) 4mm2 PV cable 500M,10mm2 wind cable 50M

3) terminals and MC4

Solar Panel Rack (Quantity: 1 set)

Slope Roof or Flat roof or Ground (option)

including complete fittings

wind load: 55m/s, snow load:1.5kn/m2

structure: Anodized Aluminum + stainless steel
Solar Wind Generator Parts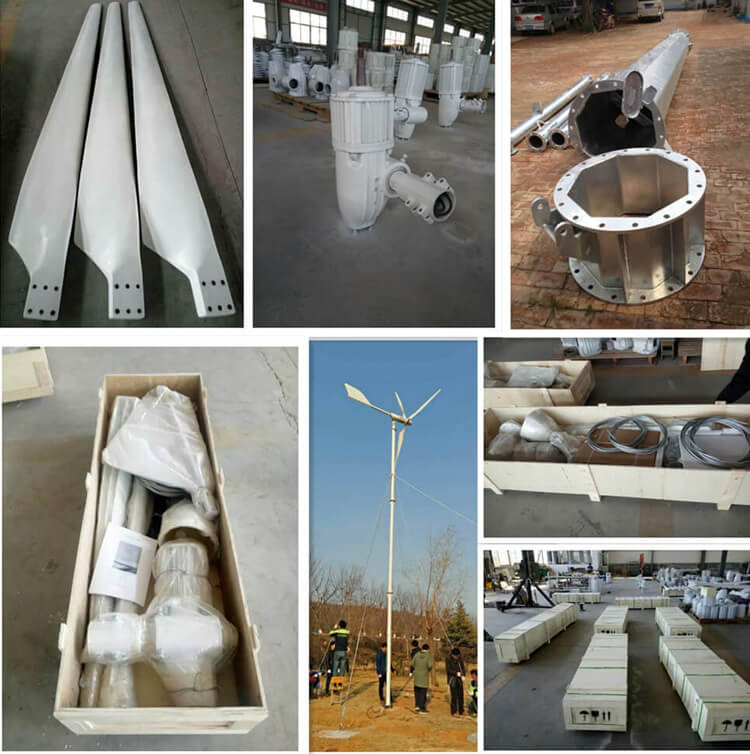 Solar wind generator Features:
1. Rare earth permanent-magnet generator
2. Small vibration and tiny friction, stable rotation in higher speed
3. Streamlined wind turbine body and blade outline design
4.Blades have 2 kinds, 300w-1kw for high-rigidity FRP materials and blades are dynamic-balanced
5. Noise level below 55dB around the wind turbine tower
6. State of the art, workmanship and beautiful appearance
7. Use magnetic saturation technology, with 20years designed life;
8. Select high quality bearing, free to maintenance;
9. Anti-twist device, generator can whirl in each direction
10. Anti strong wind, the blade protect itself automatically,
11. Supply matched controller/inverter, make the system more stable.
Solar Panel Power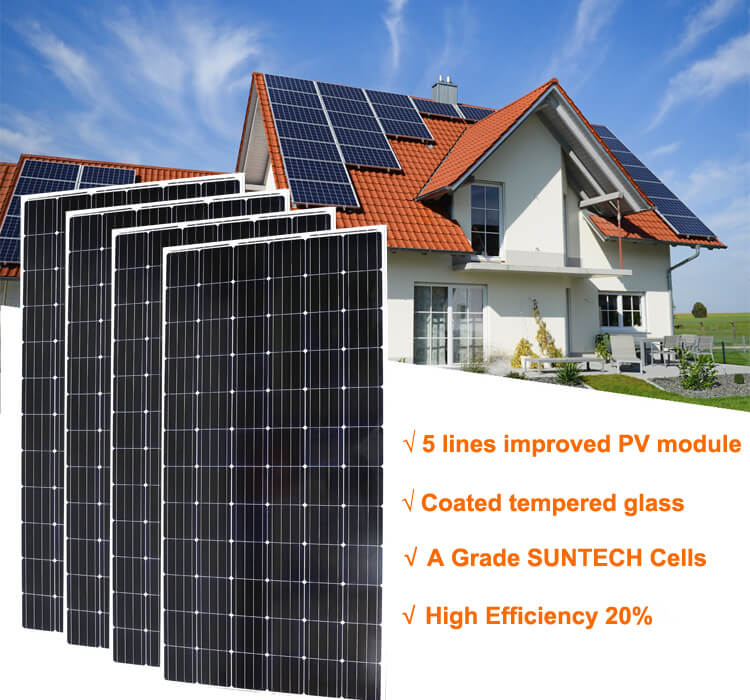 What's more?
Coated tempered glass replace previous tempered glass, power can improve 5 to 10 watts.
Coated glass can effectively reflect the infrared, Reduce the working temperature of the component, thus reducing the power loss of the component and reducing the influence of the high temperature on the service life of the component raw material. At the same time a large number of UV absorption, Reduce UV damage in EVA and backplane raw materials. reduce UV on the EVA, the backplane of the raw material damage.
Solar PV panel characteristics

Module Type

FS250-24v

Maximum power at STC(Pmax)

250W

Optimum operating voltage(Vmp)

30V

Optimum operating current(Imp)

8.33A

Open-circuit voltage(Voc)

36V

Short-circuit current(Isc)

9.68A

Short-circuit current temperature coefficient

(0.065±0.015)%/℃

Open-circuit voltage temperature coefficient

-(80±10)mV/℃

Peak power temperature coefficient

-(0.5±0.05)%/℃

NOCT (Air 20℃; Sun 0.8kW/m wind 1m/s)

47±2℃

Operating temperature

-40℃ to 85℃

Maximum system voltage

600V DC

Power tolerance

±3%

STC

Irradiance 1000W/m2, Module temperature 25℃, AM=1.5
TANFON Solar Wind Hybrid System Project
Tanfon 5kw Solar Wind generator system installation in Philipplines (3kw wind turbine generator and 2kw solar panel power system for home use)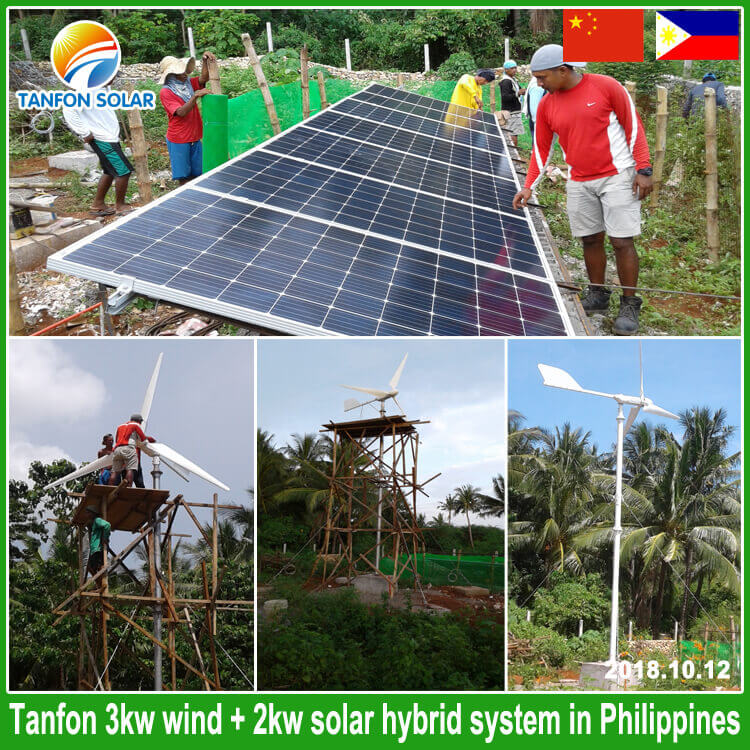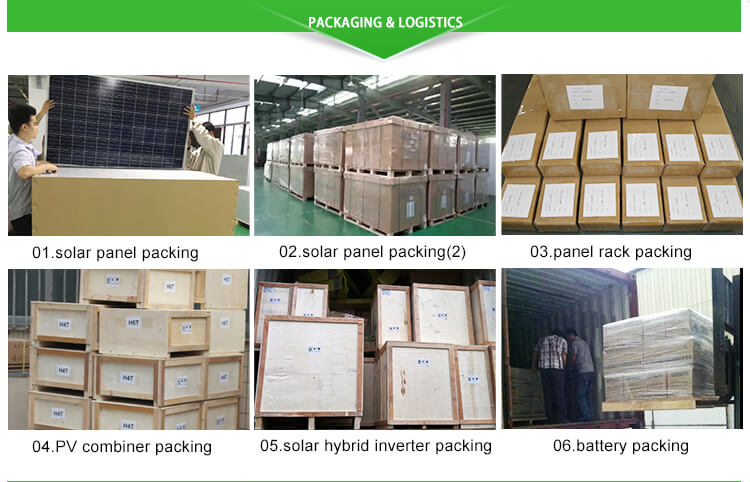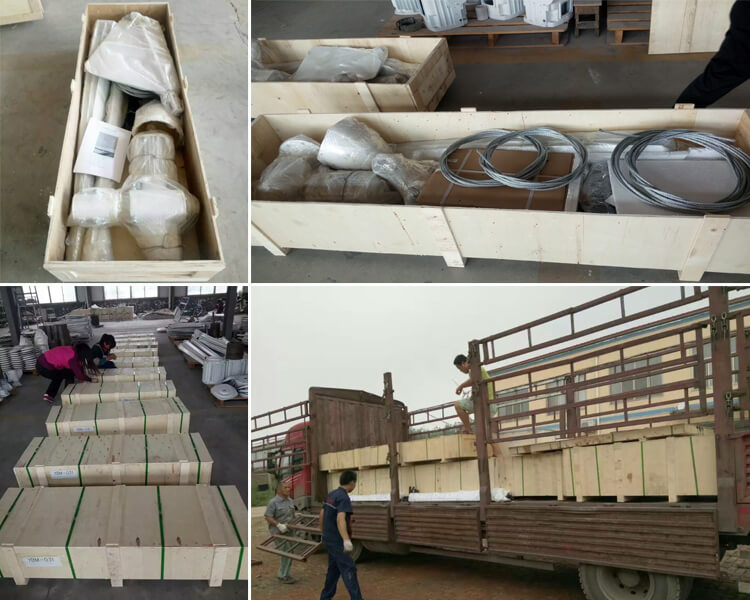 Foshan Tanfon Energy Technology Co., Ltd. is specialized in R&D, manufacturing and selling wind power system
product, solar power system product, solar wind hybrid system, solar and wind energy.
For solar wind hybrid system mostly use for household power supply,
have main charger when non-wind. very useful system.Pure sine wave output, can take all inductive loads.
Product sales to (France, USA, Canada,Pakistan, UAE, Bangladesh ect) popular product and new energy leads low carbon life.
Good quality, best price and better technical support and service, make Tanfon
energy technology Co.,Ltd as your most valuable cooperator in China.
FAQ
Q1: If I want to buy a solar wind generator, what details I need pay attention to?
A: See if the wind speed can reach the starting speed of the residential wind turbine; the total power loads you want to carry.
Q2: For home use, which one is better?
A: Normally we sell 3kw & 5kw solar wind generator for home use.
Q3: What kind of tower can i choose?
A: Wind turbine generator Guy cable tower & Stand Alone Tower optional
Q4: How many days for delivery?
A: The 10kw solar wind generator normally for 10days. quantity order need about 25days.
Q5: What kind of package?
A: Solar wind generator products, Export Standard Packing: suitable for tough handing and transport
Q6: About the payment?
A: We accept T/T, Western Union and Alibaba Trade Assurance (prefer to this one)
30% advance, 70% balance before shipment, if total cost more than USD50000, accept L/C
Certification supports us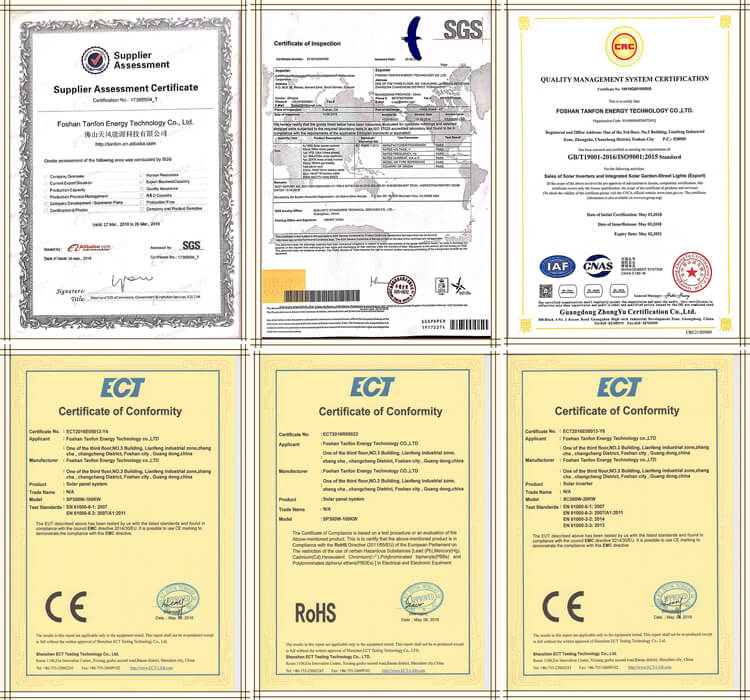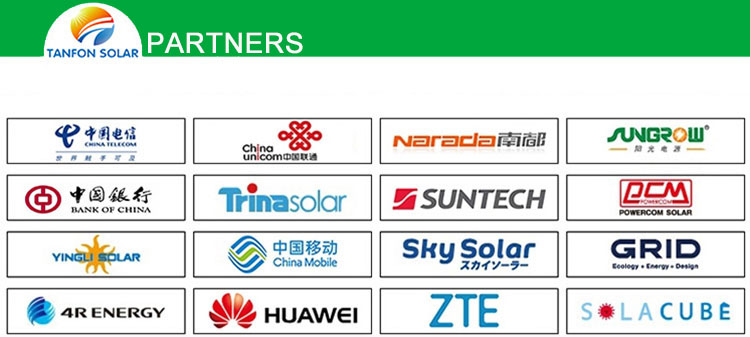 We accept OEM and small trial orders of solar wind hybrid system, residential wind turbine, contacting with us now for more information. All inquiries will be replied with in 24 hours.
Quality is our culture, with us, your business in safe, your money in safe.