5kw solar power system on grid ground mounting
TANFON aggressive in branching out from china, welcome join us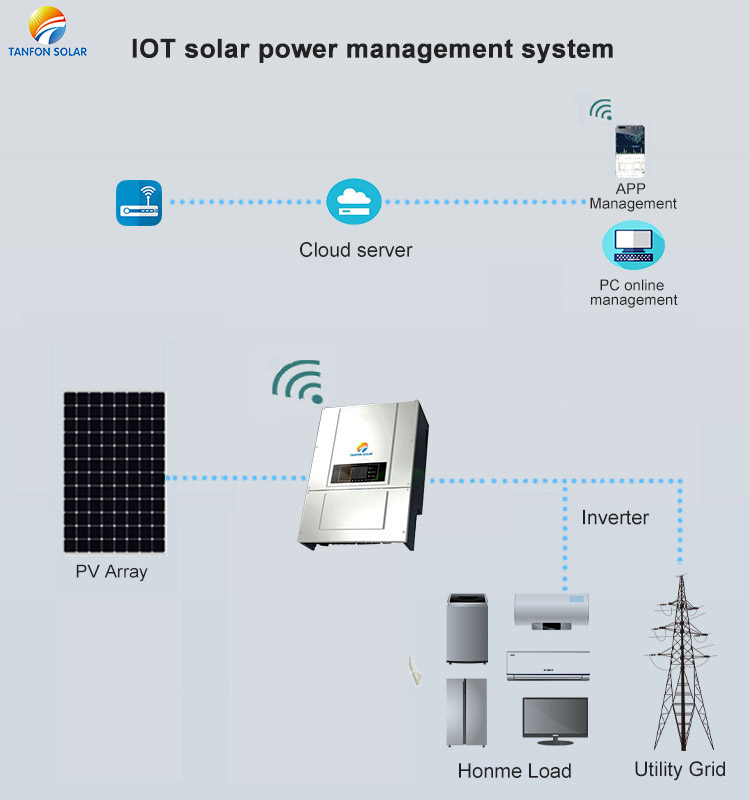 Why Choose Tanfon?
Quality:
Each set solar power system has tested by power-off test of

100 times per hour.
Service:
Pre-sale: Have been served for 120 countries

professional teams will free to hlep you to design and big project site survey.

Selling: Three days per time of follow-up services,

video inspection

.
After sales: Engineer can be on-site installation service.
Efficiency:
Project design solution will send to you quickly within 1 hour

The fastest will be shipped in 7 days

The engineer will arrive at the installation site within 10 days after the goods arrived at port.
5kw home solar system grid tie connect to the city power residence solar energy
TANFON On grid solar power system- SPB5KW

Solar panel rated output power: 5000W

Suitable for daily power consumption: >30KWH

FS350W mono solar panel(poly optional)

Vmp: 37.04V Voc: 45.57V Imp: 9.44A

Size: 1956*992*40mm

Warranty: 10 years

25 years life time (CE TUV)

Coated steel Glass: 3.2mm Tempered

Terminal block:IP65 with MC4 connector

Efficiency performance: 25 years 80 % 20 year 85% 10 years 90%

QTY: 6 pieces

Power capacity: HBF5KW

MPPT voltage: 175V-520V

Rate voltage: 600V

Number of MPP inputs:2

Number of DC inputs:2

Allowed Voltage Range Of Grid: 220V or 380-415V

Communication interface: RS485

Inverter size: 478*344*170mm

Slope Rooftop or Flat rooftop

Wind load: 55m/s

Snow load: 1.5kn/m²

Structure: Anodized Aluminum + stainless steel

Angle adjustable (other type of rack can be customized as per client's requirement )

QTY: 1 set

3pcs 16mm²*35CM battery cable

2pcs 16mm²*1M battery cable

4mm² PV cable 100M

terminals and MC4

QTY: 1 set
The grid-connected solar photovoltaic power generation system is composed of photovoltaic grid array grid-tie inverters. Without the storage of the battery, the grid inverter directly inputs the power into the public grid.
The grid solar photovoltaic power system saves the energy storage and release process of the battery compared with the off-grid solar power system, which reduces the energy consumption, saves space and reduces the configuration cost.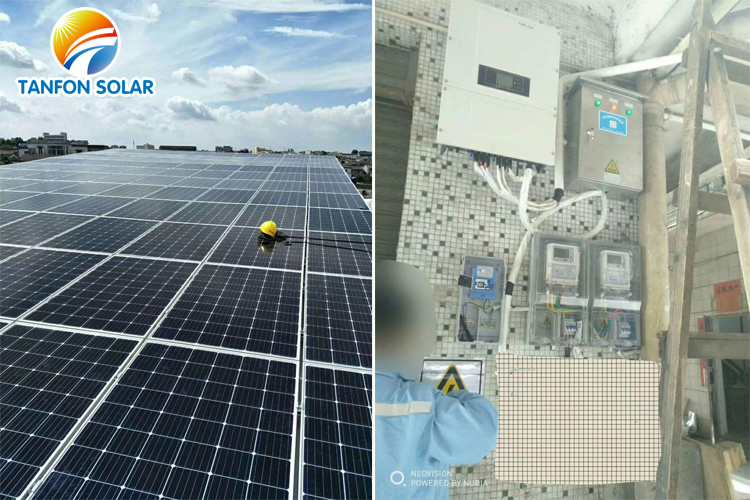 We provide complete set solar power system that include all parts for customers, installation tool can be choose. Customers can easy install the system according to our detailed connect diagram and user's manual.
Tanfon Supply: Free site survey, design, production, installation, maintenance of one-stop service.
Support Installation Service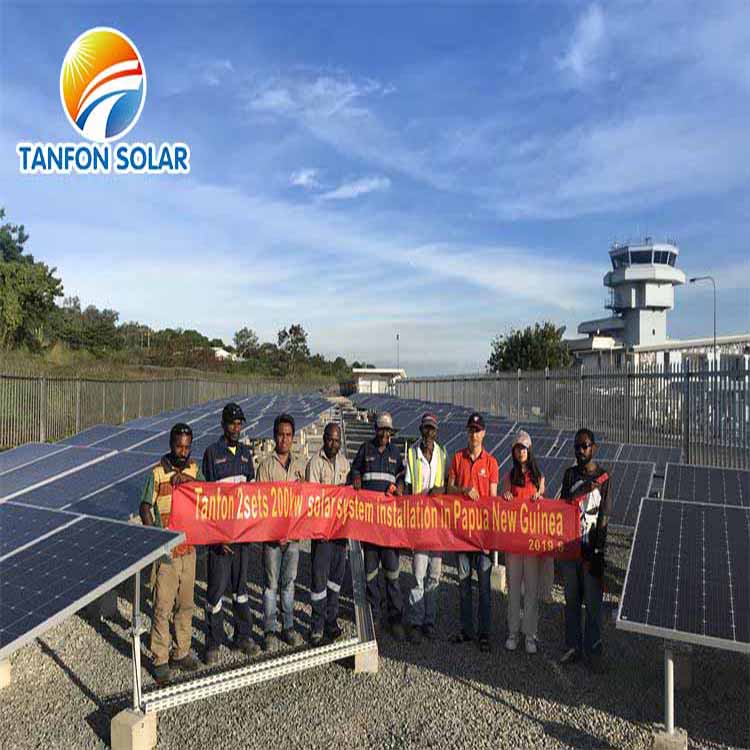 Solar panel
Coated tempered glass replace previous tempered glass, power can improve 5 to 10 watts.
Coated glass can effectively reflect the infrared, Reduce the working temperature of the component, thus reducing the power loss of the component and reducing the influence of the high temperature on the service life of the component raw material. At the same time a large number of UV absorption, Reduce UV damage in EVA and backplane raw materials. reduce UV on the EVA, the backplane of the raw material damage.
Customers Feedback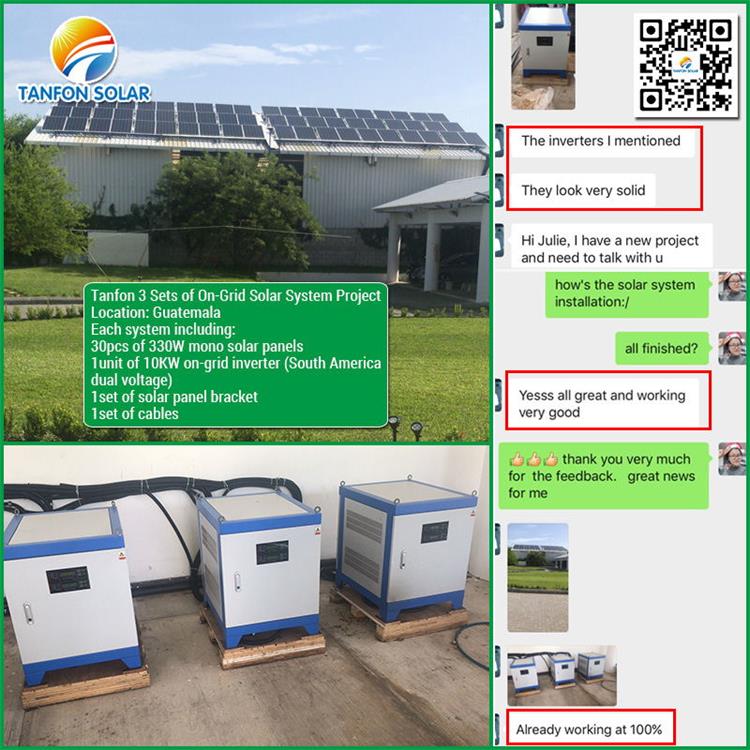 Solar system high efficiency working feedback.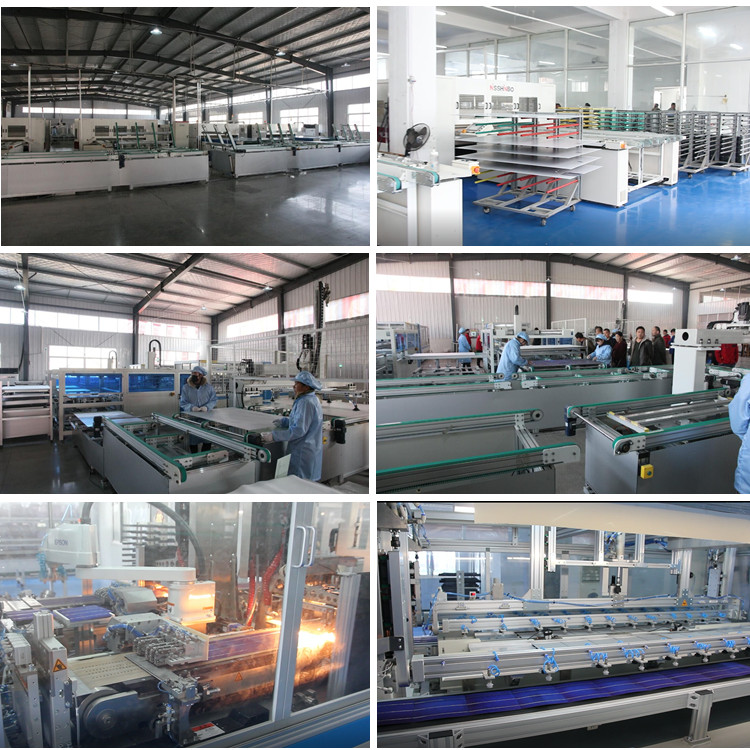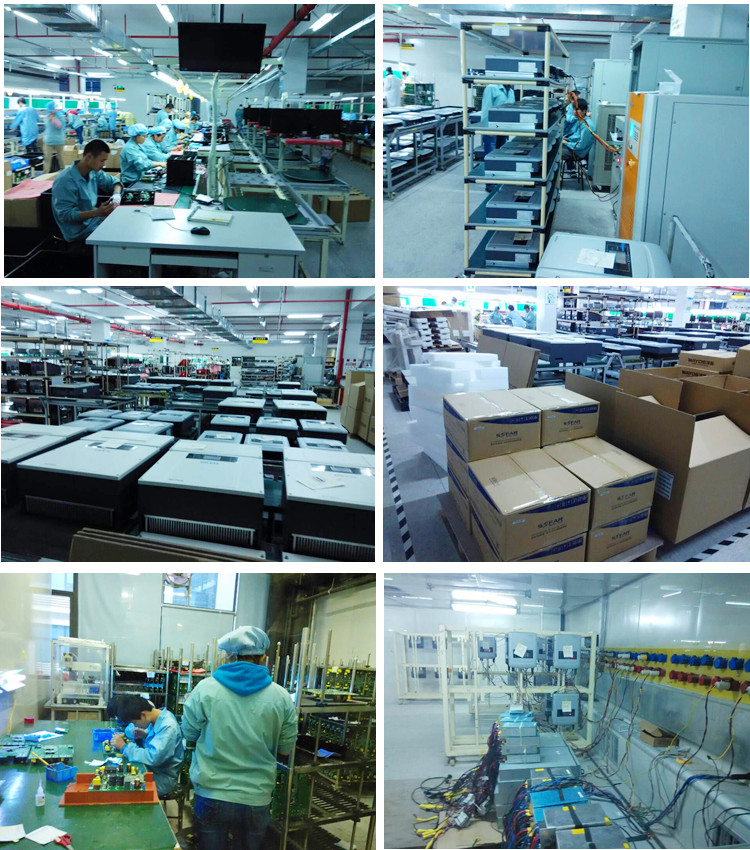 Shipping
Material in stock can be produced (procedure 5-20days) right away after pre-payment confirmation. COSCO Mearsk MSC ship to worldwide for safe shipping, don't worry about package damage or loss. It takes about 15-40 days to worldwide, Please note us your contact details include your phone number for easy contacting from shipping company officer.
Q: What can be included for this system from TANFON?
A:This system includes:solar panels, PV array combiner,Solar inverter with MPPT solar controller build in, Gel free maintenance battery, solar panel rack, cables, etc.
Q: Is the solution for complete set? If not, what else are needed?
A: Yes, we can provide solution of complete set. If you don't need complete set, basic parts are available also.
Q: Is the system solution always the same? Can I customize one?
A: No. We have professional teams making solutions for our clients. Solutions are mainly customized based on different sunshine time and power consumption. So the 1kw system may be with different configuration.
Q: Who arranges the shipping?
A: We could help you arrange the shipment, we have good service forwarder in Guangzhou.
Q: Can the inverter switch automatically to national grid to protect batteries.
A: Yes. It can also connect to third generator, as like diesel generator. Please tell our sales before production.
Q: What is the lifetime of the solar power system?
A: Solar panel's lifetime are 25 years, charger controllers 5~ 7 years, inverters 5~7 years, batteries 6~8 years.
Q:what is TANFON solar system after sales service?
A: during the warranty ,Solar panel--ship free new one ;battery—ship the new one ,
Inverter/controller---ship free PCB by DHL or Fedex.
Q:what is your trade Assurance?
A:100% product quality protection
100% product on time shipment protection
100% payment protection for your covered amount
If you have more question, welcome to contact us freely, Choose TANFON, Choose Satisfaction!
We accept OEM and small trial orders, contacting with us now for more information. All inquiries will be replied with in 24 hours.